Close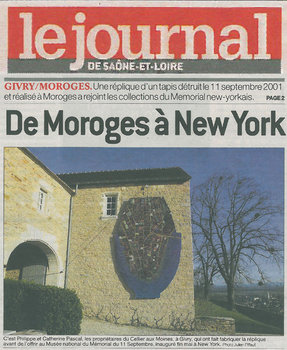 FROM MOROGES TO NEW YORK
A replica of a World Trade Center restaurant carpet, which was designed to look like the island of Manhattan, has been donated to the 9/11 Memorial Museum's collection.

The Domaine du Cellier aux Moines in Givry, France, donated the replica Manhattan carpet. A similar carpet had once decorated the entrance of the Windows on the World restaurant in the north tower at the World Trade Center.
The Manufacture, which produced the original carpet in 1996, completed the replica a few months ago.
More information at:
http://www.911memorial.org/blog/replica-manhattan-carpet-once-adorned-wtc-restaurant-now-part-museum-collection